More and more people are seeing the benefits of using a proxy server when they go online. Increasing security risks and the lack of access to specific websites in certain locations make proxy servers the only option for those who want to bypass these issues. Here are a few key advantages to using proxy servers and how to choose the best proxy sites.
Security and Privacy
A proxy's main draw is security and privacy. Internal users remain anonymous to external users when they are accessing the Internet using a proxy. This can be very useful when working on the road especially when private or sensitive information is involved. When using a VPN (Virtual Private Network), for example, a user's IP address, physical address and other important information is hidden from other Internet users because the VPN strips this information and instead substitutes it with the IP address of the proxy server, which can be any location in the world. Security is another advantage. Because the user's IP address is hidden, malware threats that are roaming the Internet are only able to find the proxy, keeping your information safe and protecting you from spam and phishing attacks.
Faster access to websites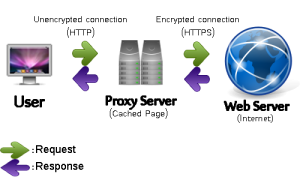 The use of a proxy server allows for shorter loading times when a user opens a website. This is because a proxy caches accessed websites to reduce bandwidth use. For example, if a website takes 12 seconds to load for the first time, it takes half that time to load the same site the second time around after it has been cached. This is a more efficient delivery of web content that helps with productivity especially in corporate settings.
More control over Internet access
Large corporations prefer to use the best proxy sites in the office because they allow for better control over Internet access and usage among employees. For example, administrators can restrict certain sites such as adult or social networking sites during office hours. Proxy servers also provide details about Internet use within a company so company bosses can easily keep track of their employees' online activities.
Access to restricted sites
Countries like China have a strict monitoring system in place for Internet users in the country. Google and related sites, such as websites on Blogger and many news sites based in the US like CNN and The New York Times are impossible to access from the mainland. A proxy server allows Internet users to bypass the Great Firewall and access these sites. Canadian users who want to access Hulu content, which is only available to US users, can use a proxy server to bypass Hulu's restrictions so they can access the site.
Choosing the Best Proxy Sites
There are many types of proxies out there. There are free servers that you can access for ordinary browsing and there are also paid proxies that offer top-of-the-line anonymous protection and security. Paid proxy servers are typically a better option because they have real time support teams that are responsive and accessible at any time of the day. These proxies are also easy to set up and use. Today, one-touch set-ups are very common, allowing even first time users to set up a proxy server connection in a matter of minutes.
When choosing the best proxy sites, it is also important to look at the quality of support given, such as step-by-step assistance in troubleshooting errors. A large network of IP addresses on a large network of servers is another characteristic of the best proxies. The larger the number of IP addresses being cycled through different servers, the higher the level of security. The best proxy sites also offer a kill switch as a feature for clients who really want the most secure connections. A kill switch is a feature that maintains user anonymity even when the proxy server fails. This is extremely important for clients that pass sensitive corporate or personal client information back and forth. Without a kill switch, sensitive information could be exposed when the proxy fails.
Click Here to find the best VPNs and proxy sites.